Ogna Camping is great starting point for both short and long excursions, for city trips, mountain hikes or a walk on the beach. Maybe everything in one day? Rogaland has a lot to offer!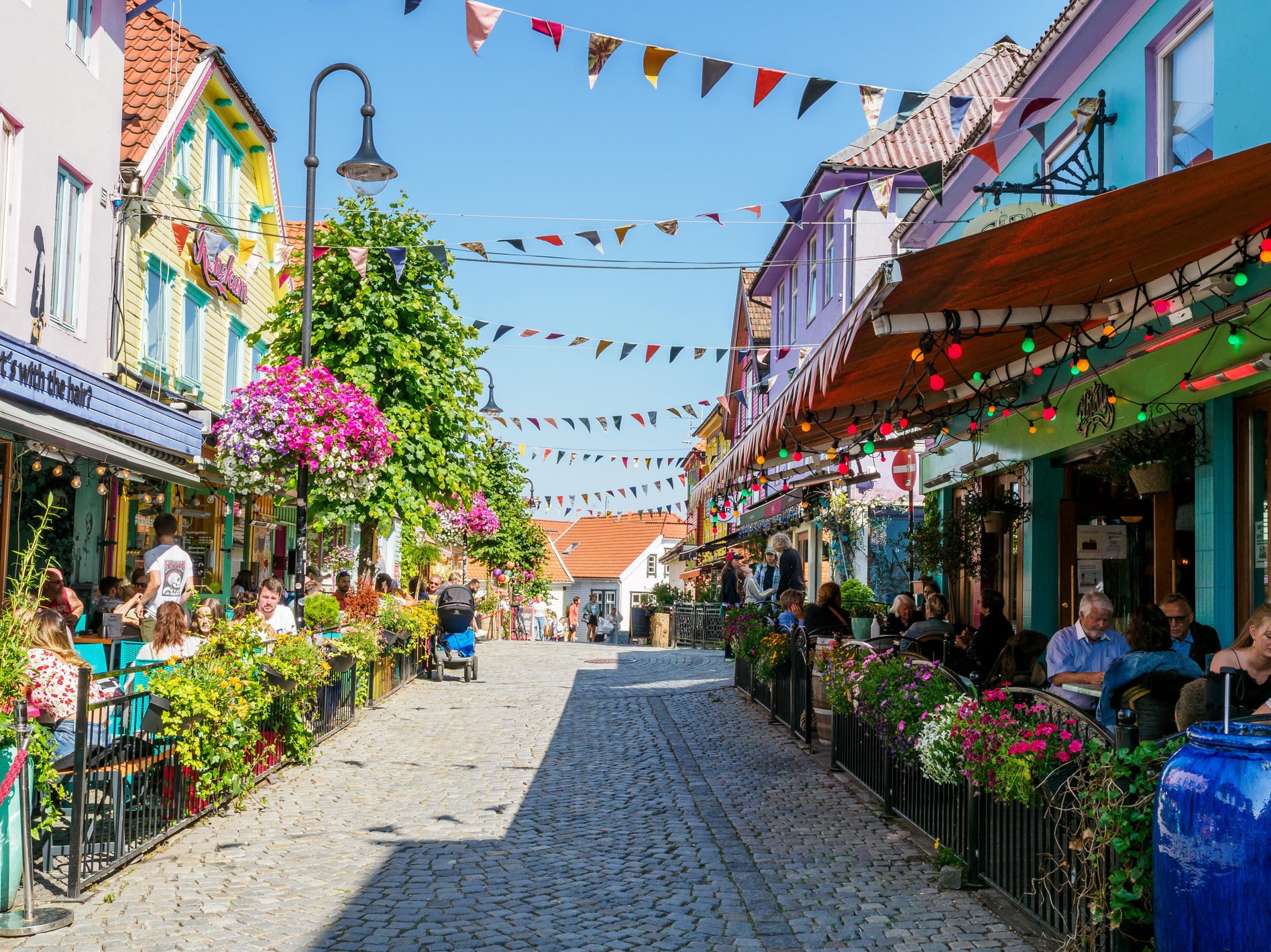 Jær beaches
Not many places in Norway has beaches quite like Jæren.
The beaches extend all the way from Sirevåg in the south to Tungenes north of Stavanger. The coastline is 70 kilometers and has a total of 25 kilometers of sand beaches. Det are also beautiful stretches of roche moutonnée (sheepbacks) and the characteristic pebble beaches.
In addition to "our" beaches Ogna and Brusanden, the most popular beaches are Sola, Bore, Orre, Hellestø, Vigdel and Viste beach.
Experience the shifting weather and the extraordinary lighting. As beautiful in summer as in winter.
City vacation
North of the camping site lies Stavanger and Sandnes which offer shopping, exciting museums, nightlife, and some of the best restaurants in the country.
South lies the woodhouse city Egersund, which also has a famous Christmas marked event in December. You will also find niche boutiques, restaurants and café's in this small port city.
Kongeparken
Kongeparken in Ålgård is one of most popular amusement park in Norway and the largest amusement park in the western part of Norway.
Trips
Ogna Camping is a central hub for both short and long excursions on foot, on bike, by train or car. We recommend the Jær beaches, Kongeveien, (The royal road) Pulpit rock, Steinkjerringa, Høg-jæren, lysefjorden and the rocking rock. The beautiful hiking areas along Høg-jæren with amazing panoramic view. A trip along the beaches or a small mountain trip. There are many war memorials. And great hiking trails to many of these.
Kongeveien/The royal road
Kongeveien is a 10-kilometer trail along the sea from Kvassheim to "Hå gamle Prestegard" a destination that is worth the trip in itself. The trail is well marked and split into stages.
Lysefjorden
The spectacular Lysefjord should be experienced from both the sea and the mountains with it's world-renowned landmarks like the Pulpit rock and Kjerag
The Troll's Dick / Trollpikken
This rock formation with it`s rather unique name and appearance became a worldwide sensation after someone chopped it down in 2017. The Troll's Dick rock was re-erected to much excitement for both hikers and people who enjoy good puns.
Synesvarden and Steinkjerringa
Synesvarden and Steinkjerringa, or Mor Norge (Mother Norway) as it is actually called, is a sculpture that lies in the landscape conservation area 3 kilometers southwest for Synesvarden. The sculpture was made in 1898-99 by Sigurd Sørendsen under the artist name S. Neandros. There is parking and marked trails.
Golf
Ogna golfclub is 1 km from the campsite towards Ogna/Egesund. The course has a good location which is shielded from the wind and has a stunning view. The course has 9+ holes and a training course with 6 holes. Ogna golfclub is member of NGF. Read more about Ogna Golf club here.
Surfing
Jæren is known for having some of the country's best surf spots and attracts all types of surfers, whether they prefer kite, wind or wave surfing.
Surfschool
If you are interested in learning to surf or need tips on where the best conditions are, we recommend Surfschool.
Fishing
Fishing is always a popular activity, no matter if you enjoy fishing in the sea or rivers. During the season there is good conditions for salmon fishing in thee Ogna river and Figgjo river. Enjoy fishing from the nearby rocks, piers, and docks in Sele and Reve.
Read about salmon fishing in the Ogna river.
Read about salmon fishing in Figgjo/Sele.
Grønefed kulturtun
For many years Grønefed Kulturtun (Culture yard) on Ogna has been a meeting place for small and large events.  Read more about Grønefed kulturtun 
Pauserommet
Pauserommet på Sirevåg is a cozy cafe and store located in the train station on Sirevåg. As they say about themselves "The place to take a break from the daily life" They serve food and drinks, host cultural events and has a boutique store with a selection of various items.